RCYT 20th Anniversary
Roscommon County Youth Theatre (RCYT) celebrates its twentieth Anniversary. Founded by Catherine Sheridan in 1999 with the support of Roscommon County Council. RCYT has produced a multitude of highly acclaimed productions ranging from comedies to tragedies and everything in between. By producing a diverse range of plays we provide avenues for young people to explore situations they might find themselves in and provide dialogue for ways to tackle issues that arise in their adolescence. As a youth theatre, we advocate a way of working which puts the integrity of the young people at the centre of a process valuing both exploration and artistic excellence as well as opportunity, empowerment and access.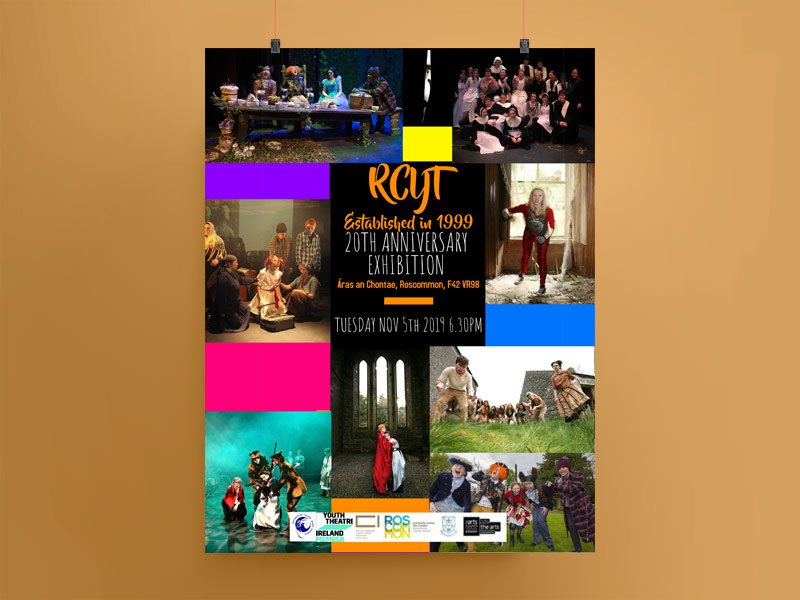 To celebrate this fantastic occasion, we have installed an exhibition at Arás an Chontae, Roscommon with the support of Roscommon County Council and Creative Ireland. The exhibition, curated and installed by Artistic Director Catherine Sheridan and her team includes production images throughout the years taken by the amazingly talented photographer Brian Farrell, set pieces from Alice in Wonderland, Animal Farm and If I was in the GPO we would have Won as well as numerous props, costumes and other memorabilia's. There are also digital screens with extracts from productions and testimonials.
Past Productions include:
Folie Tha; Toil & Trouble; Stories; Requiem for Lena; The Crucible; Car Show; Understanding Marcus; Chatroom; Seven Jewish Children; The Voice; 20/20 Hindsight; When shall we three meet Again; Stuff I Buried in a Small Town; The Railway Children; The Roses of Eyam; Risk; Too Fast; If I was in the GPO we would have Won; Animal Farm; The House of Oedipus and Lewis Carroll's Alice in Wonderland.